Celebrate Indigenous presence on Toronto Island. Performers: Jayohcee, Layla Black, Aysanabee, Leed Reed...And Winter Island Exhibition.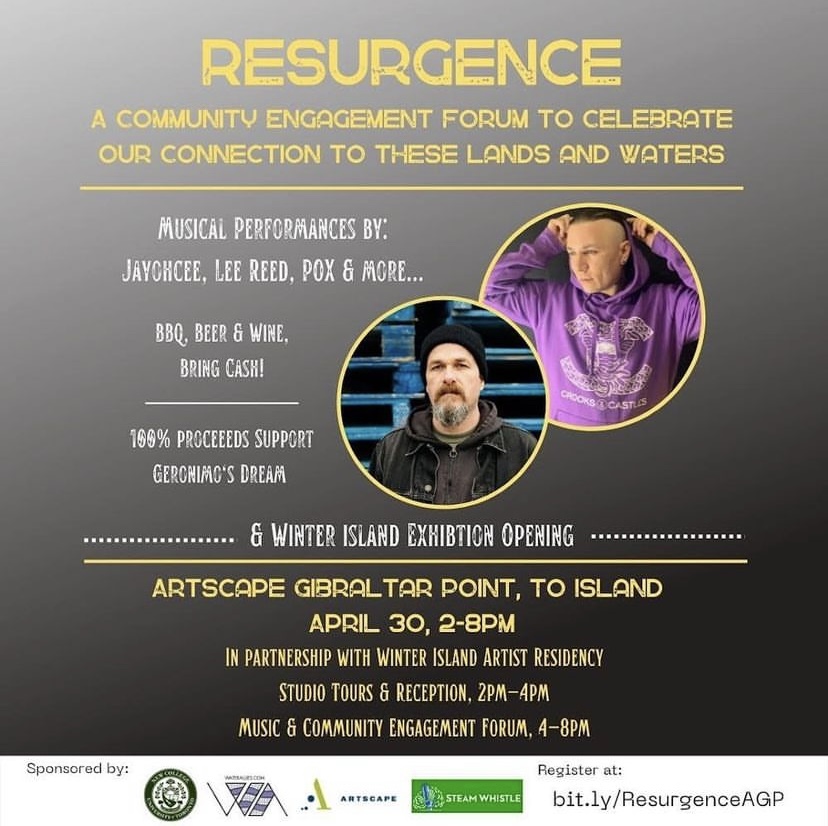 About this event
Resurgence,: A Community Engagement Forum to Celebrate Our Connection to These Lands and Waters, is a community engagement forum to celebrate Indigenous presence on Toronto Island. ArtScape Gibraltar Point will be providing space for the event and will simultaneously be hosting their Winter Island Art Residency gallery viewing where attendees will be welcome to take part in studio tours. 
2-4pm Studio Tours & Reception
4-8pm Music & Community Engagement Session 
To support Indigenous revitalization on Toronto Island, musical performers will be gifting their talents. Curated performances will showcase the skills of talented musicians, Layla Black, Aysanabee, POX, Jayohcee & Lee Reed. 
During the event, Miranda Black, of Mohawk of the Bay of Quinte ancestry & the program manager of Water Allies, will be discussing Indigenous connection to land and waters as connected to their master's research on Indigenous Relationships to Toronto Island and Surrounding Waters. 
100% of donations raised from food and drink sales will go directly to Geronimo's Dream, a memorial dedicated to the many children who did not leave the Mohawk Institute on Six Nations of the Grand River that include Haudenosaunee and the Mississauga of the Credit First Nation children. 
Registration for this event includes ferry passage to/from Toronto Island on the Toronto Island ferries (Water taxi's not included)
Kid Friendly Event.
Sponsors: New College, University of Toronto; Water Allies; ArtScape; Streamwhistle Brewery; City of Toronto 
Expect phenomenal musicians, discussions on land/water, food, drinks, artists talks, beach-combing-micro-plastic workshops, lantern making, children's crafts, and more!
-----
Winter Island is an annual residency run by Artscape Gibraltar Point and generously supported by the KM Hunter Charitable Foundation. This year ArtScape Gibraltar Point is excited to offer seven artists and collectives space to explore ideas surrounding the islands and community based art. As part of Resurgence, we are happy to launch the opening of the Winter Island Exhibition which will run from April 30 – May 31th. The opening will feature artist talks, workshops, and the chance to explore the inside and outside of Artscape Gibraltar Point to see the products of our Artists-in-Residence hard work. Prepare for a mixed-medium and hands-on experience! The opening will start at 2 PM on April 30th.