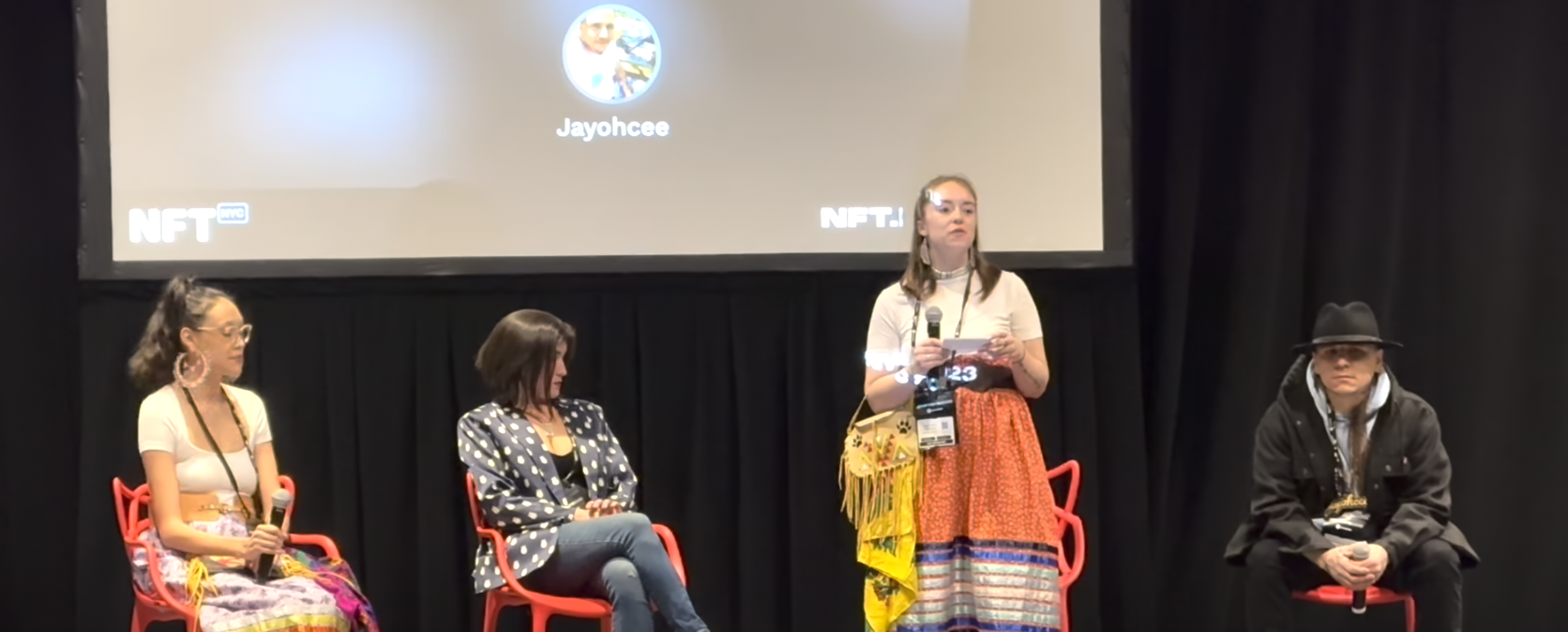 One of the most profound and empowering moments of my journey at NFT.NYC 2023 was being invited to participate in the first-ever Indigenous panel. The first all Turtle Island Native panel at NFTNYC 2023 Featuring speakers: Running Fox, TokenNDN, Corey Jayohcee Jocko, and Wiisagi Ma'iingan. This groundbreaking event provided a platform to celebrate and amplify Indigenous voices in the web3 and NFT space, shedding light on the rich diversity and creativity within our communities.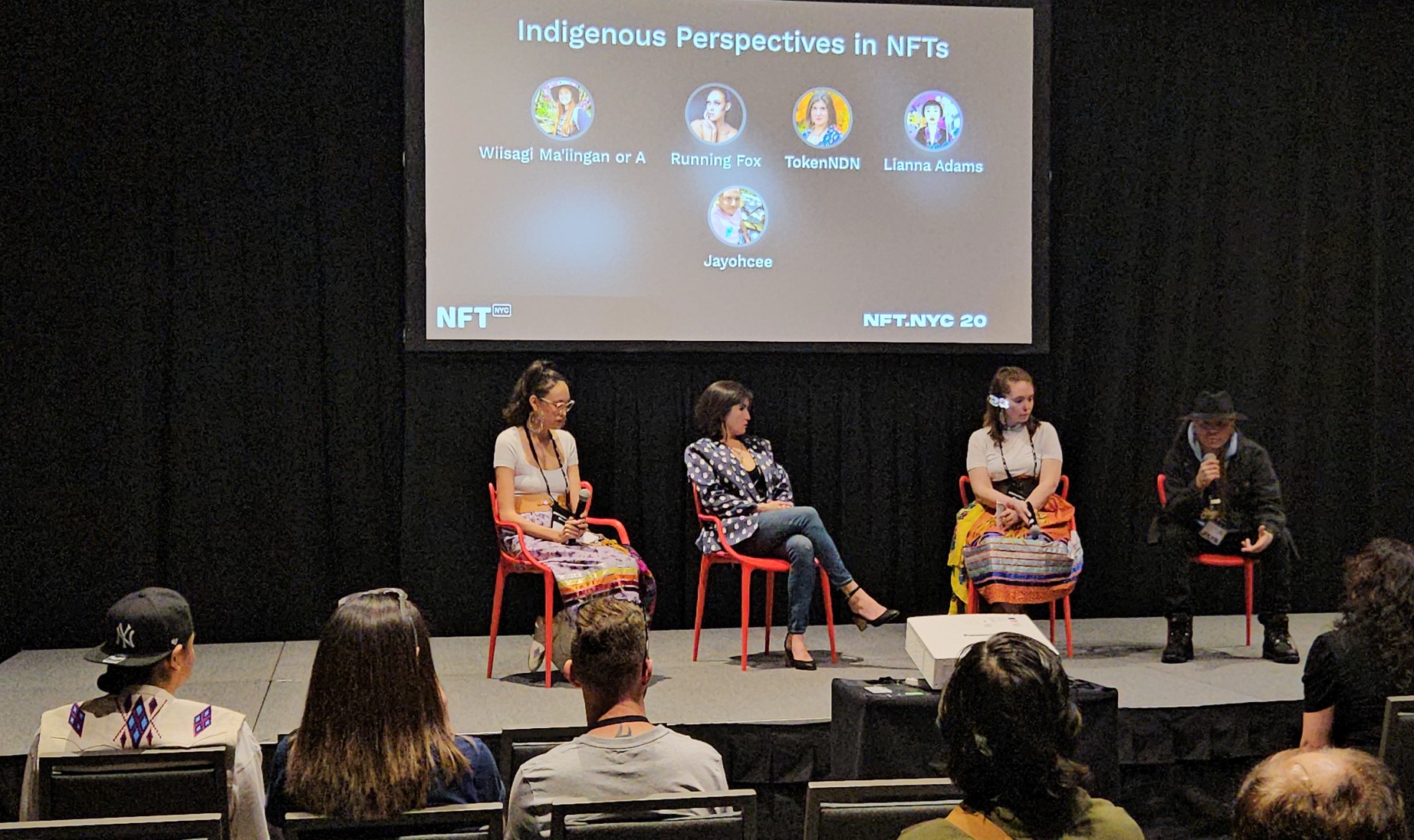 As I took the stage alongside other esteemed Indigenous artists, creators, and innovators Running Fox, TokenNDN, and Wiisagi Ma'iingana, a wave of inspiration and pride washed over me. It was a moment of significance, not only for me personally but for all Indigenous people around the world. We had the opportunity to share our stories, experiences, and perspectives, challenging the prevailing narratives and stereotypes often associated with Indigenous cultures.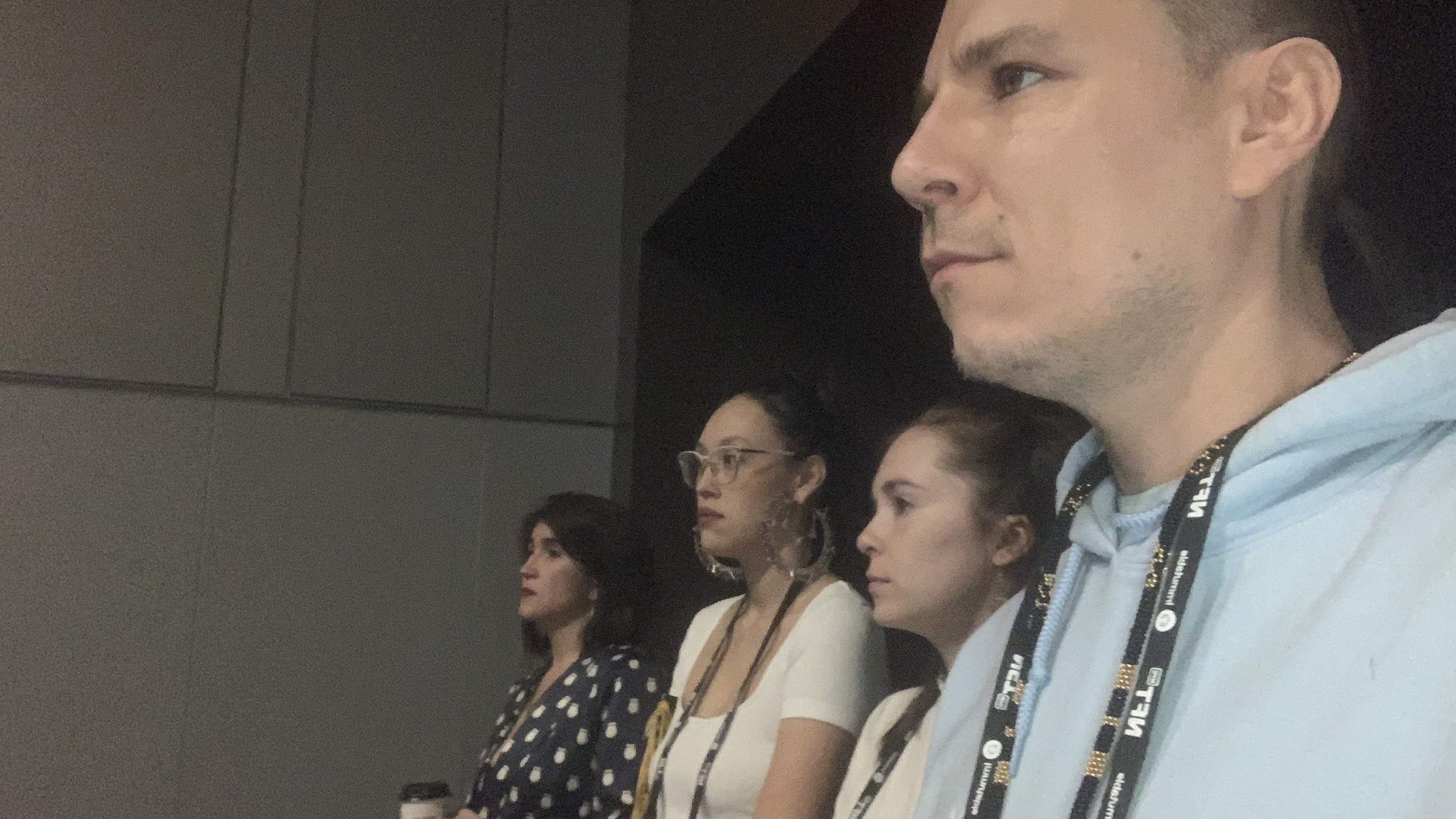 The panel delved into various topics, ranging from the importance of preserving Indigenous knowledge and traditions to the role of technology in fostering cultural revitalization. We discussed how the blockchain and NFTs have provided new avenues for Indigenous artists to reclaim their narratives, showcase their art, and build sustainable futures on their own terms.
One recurring theme that emerged from the panel was the power of collaboration and community-building. We emphasized the need to support and uplift each other, creating networks and platforms that foster Indigenous creativity and entrepreneurship. The panel served as a catalyst for forging new connections and nurturing a sense of unity among Indigenous artists and creators in the web3 space.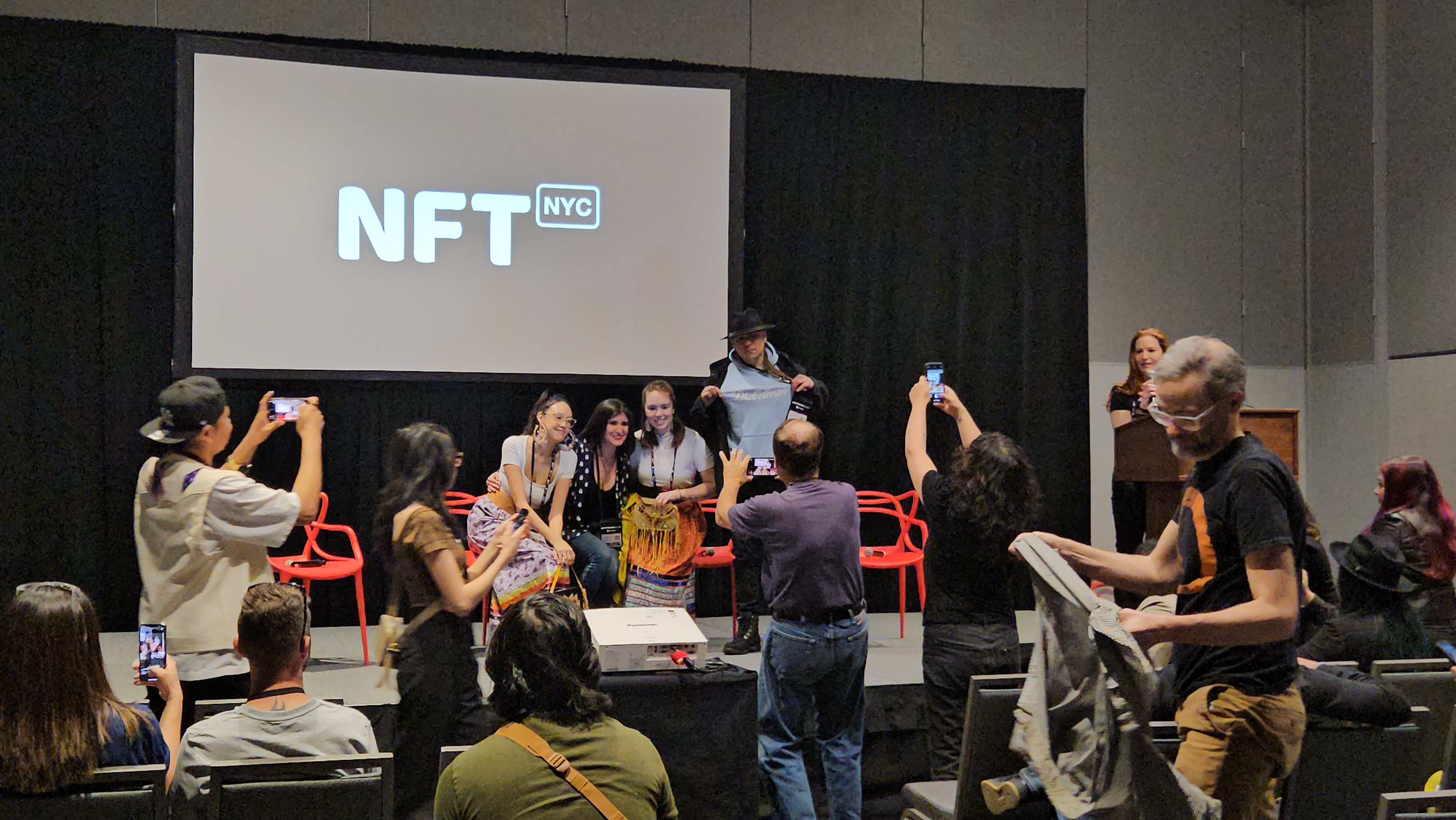 Beyond the panel itself, the audience engagement was nothing short of extraordinary. Attendees were genuinely interested in learning about Indigenous cultures, art forms, and the significance of embracing diverse perspectives. The conversations after panel sparked thought-provoking discussions, opening up dialogues on cultural appropriation, decolonization, and the responsibility of non-Indigenous individuals to support Indigenous artists and causes.
Being a part of the Indigenous panel at NFT.NYC 2023 was not just a personal accomplishment; it was a collective triumph for Indigenous representation in the web3 community. It served as a reminder that our stories, cultures, and art are essential and deserve to be celebrated on a global scale.
As we move forward, we must continue to uplift Indigenous voices, advocate for equitable opportunities, and create spaces where Indigenous artists can thrive. The Indigenous panel at NFT.NYC 2023 was a powerful step in that direction, and I am honoured to have been a part of this transformative experience.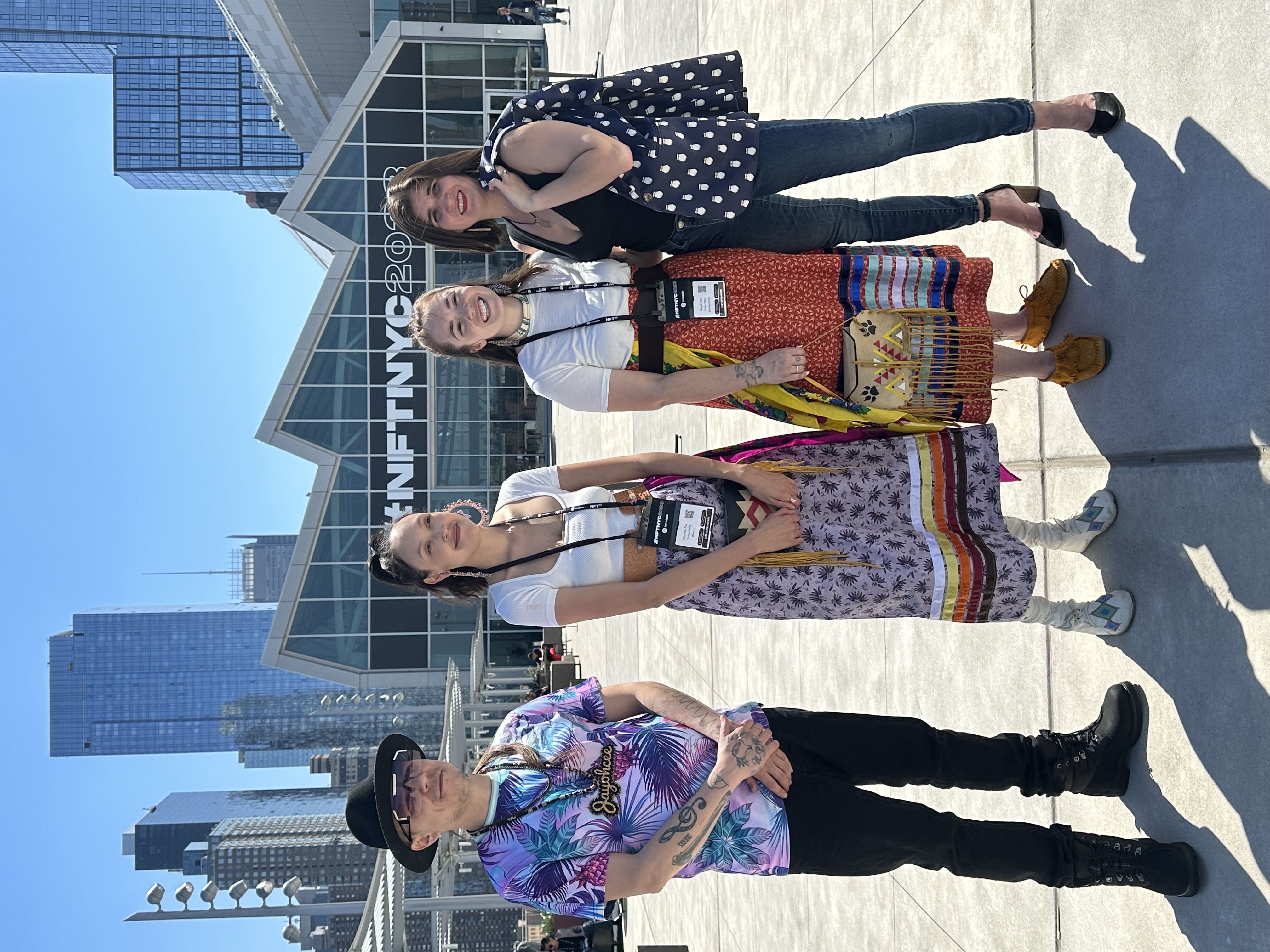 Together, let us continue to forge new paths, amplify Indigenous creativity, and shape a future where our voices are heard, respected, and valued.
Link to full Panel Video here → https://www.youtube.com/watch?v=CO5jRwzY7vo&t=81s
Stay tuned for more updates, collaborations, and initiatives that highlight the power and resilience of Indigenous artists in the web3 and NFT space. The journey has just begun, and I am excited to see what the future holds.
Nia:wen (Thank You) for joining me on this incredible adventure.
With deep appreciation and hope,
Corey Jayohcee Jocko