New Single 2018 release 'Stay Woke' NoDAPL camp song and video by Jayohcee.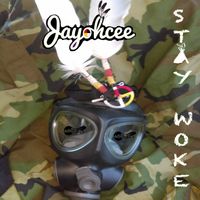 The next release from Jayohcee is finally here.
Warrrriiiioooooorrrrrssssssss…..   
Support the artist who have it the hardest. 
Stay Woke - Jayohcee (to listen click here) 
Jayohcee - Stay Woke Beat by - Dux   Recorded at - Standing Rock    Graphic design - Jayohcee / NextGen Ent.   Footage from - Jayohcee, Jihan Hafiz, Sage Issac, Johny Burwell, Nataanii Means, Eion Small, Unicorn Riot
Can't say it how much it means to have been there and met so many amazing warriors. Proud to call most of them family these days. It took all of us to make these moments so be ready to make many more as most of you already are and take action for our future! Love you all. Mni Wiconi...BSK Thank you to everyone who sent footage and also allowed me to use yours. So much love and respect your way. This wouldn't have happened without you. Jihan Hafiz, Sage Issac, Johny Burwell, Nataanii Means, Eion Small, Unicorn Riot and who ever I missed please send me a message at Jayohcee.com as I was sent a lot of clips from people and might have missed your awesome self. Niawen/Thank you everyone. We are protectors Not Protestors. #NoDAPL #NoKXL #NoLine3 #NoPipelines #ProtectTheBlackHills #ProtectBearsEars #ProtectAllThatIsSacred #Divest #Protect #BSK support makwa no line 3 - Legal Fund: youcaring.com/makwalegal Camp Supplies Fund: youcaring.com/makwacampsupplies for more camps, events, etc go to https://www.waterislifemovement.com/ Love you all Jayohcee - NextGen Ent.   #StayWoke #NextGenEnt #ItsAllForTheLoveOfMusic  #Warrrrioooorrrrrrsssssssssssss  #ProtectTheLandWeMustDefend #TeachTheTruthToAllTheYouth  #ConstantlyPrayEveryDay #AlwaysGiveThanksForEverything" Jayohcee
This song was recorded by Jayohcee an Indigenous hiphop artist during his time in Standing Rock with his brothers and sisters fighting for the land, the people and the future of this planet. While his time in standing rock In-between survival mode of -40 degree, getting shot by rubber bullets, maced, protecting camp and the people in it there was very little time for personal joys.  Having helped with supplies, wood, sanitation and any area he could he was there to lend a hardworking hand. There were a few chances for him to share his talents but when him and a few other water protectors organized a hip hop event to lift the spirits of camp during the harsh winter nearing raid day, realizing it was much needed to lift the spirits around camp. He continued to rap at every chance he could get. Even rapping while being arrested at last child's camp, all the way to the dog kennels in morton county, to the jail cells in Fargo, and all the way back to front-lines at Oceti Oyate. Almost having the chance to record at historical Mash Tent Studio but due to constant conflicts with Army corp, DAPL mercs, and police from many states it was hard to even have time to make it to record. Then the one running the tent had offered it all up to Jayohcee which Jayohcee then watched over and maintained but was never able to get the time to make it to record. After an action at backwater bridge was over in jan 2017 he went to the Standing Rock reserve where his brotha Witko had the mic ready. Jayohcee recorded the song and was excited to share with his fellow water protectors in which they all loved it. The song was performed many times in at places like the Dome, Mohawk Tent, 7th Gen Kitchen, Oglala tent, Red lake tent, two kettles and more before it was played to the general public. The song was then performed all over the so called USA on the "Wake up the world Tour" in 2017 but this will be the first time the song will be released to the general public and to the world. Enjoy this part of Jayohcee's journey and some of the things he seen and felt while at Standing Rock with his brothers and sisters fighting for the water at the front-lines. Music video is in final editing so keep checking back. "Much love and respect to everyone that was apart of this chapter for the history books" Jayohcee 
(Shhh) Congrats to you if you read this whole post for that special reason you are able to download this song for free only in this post and it will only be that way for a week.. (Not available any longer, purchase here --> Jayohcee - Stay Woke)  Niawen/Thank you for the continued support.  
Jayohcee - NextGen Ent.  
 #StayWoke #NextGenEnt #ItsAllForTheLoveOfMusic 
Unmixed-Unmastered / Audio Only copyright Jayohcee.com
The writing from Jayohcee FB post Jan 20 2018 below....
"The song I wrote in -40 weather in my tent next to the dome, finished on my way back from ceremony in pine ridge with the fam and recorded in Standing Rock on what happens to be the one year anniversary at midnight tonight from recording this song.. 
I managed to squeeze in writing and recording one full song in-between surviving, helping, ceremonies, actions, arrest, divestments and constant surveillance as well as infiltration. 
This is my NoDAPL Standing Rock song that is so much more then just about there but resinates with all struggles to protect the future of this planet as well as the next seven generations and on and on and on......... much love to everyone I'm sharing this journey with, love you all specially my brothers and sisters who stood side by side with me every night getting shot at, maced, arrested, singing, laughing and remaining fearless against oppression, as well as too many other things I won't talk about. haha. Much love to each and everyone of you, you know who you are. Im not tagging no-one (security culture foos lol) but you all can share away to the world.. Super huge thank you to Dux for the beat without you the magic would have not been waiting. I miss camp to much and also so much in the works but thats for another post lol. Love you all.... 
#Warrrrioooorrrrrrsssssssssssss 
#ProtectTheLandWeMustDefend #TeachTheTruthToAllTheYouth 
#ConstantlyPrayEveryDay #AlwaysGiveThanksForEverything" Jayohcee 
Unmixed-Unmastered / Audio Only copyright Jayohcee.com