It gets no better then being able to share the stage with family. Specially when there is so much talent. This Sat Nov 18 2017 Me, Dio, and Cedes will all be in Ottawa together for the first time since Standing Rock Oceti Camp. Dio was the first family I met when I got to camp and I hadn't seen her since we were younger but once I had seen her I felt right at home. She said "What ever you need I got you". Thats fam. Then that same day I found Mercedes at medics taking care of her chemical pneumonia from the water hose attack. We all did a lot for that camp and are proud of it. Each of us continuing the fight in every way we know. This time around we get to share our craft. Performing from the heart and sharing our stories with the people. Can't forget about my brotha Cody Coyote, we go way back as well. Me and Cody have done tons of shows together and were at each others first shows in Ottawa. Since then I have travelled far and wide sharing my story and watched Cody do the same. He has accomplished so much. check out his bio and link below along with each of ours. We speak to the people. Always an honour to be with my cousins and one of my best friends.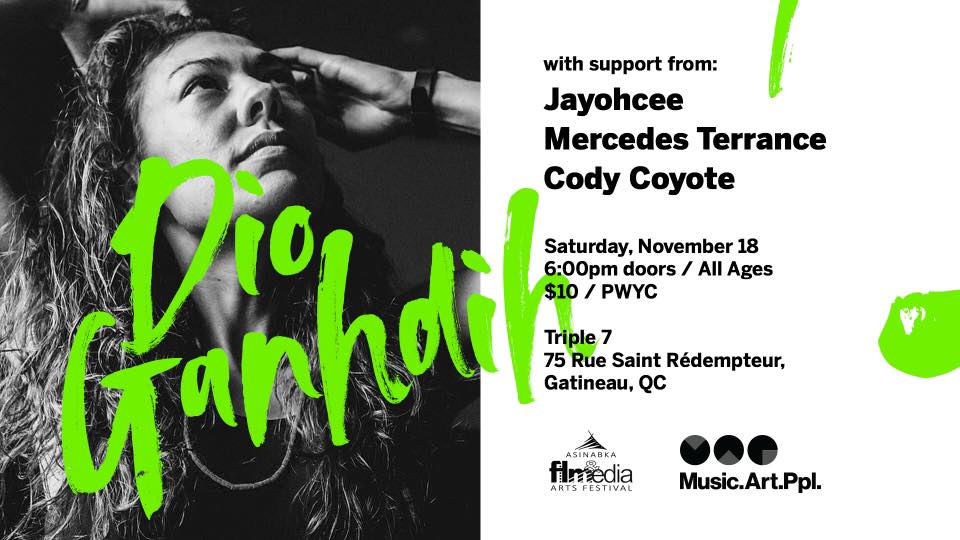 All Ages // 6pm Doors // Show 7pm // All Ages // $10 PWYC 
Advance Tickets: http://bit.ly/2zBGO5x 
Location: Triple 7 (75 Rue Saint Rédempteur, Gatineau, QC J8X 2H4) 
Dio Ganhdih - (Oakland, CA) 
Dio Ganhdih is a queer indigenous rapper with a heart beat based in Brooklyn, an imagination spun in upstate New York, and a nervous system best suited for the Bay Area. From deep within Mother Nature's beauterus, Dio Ganhdih, otherwise known as Heavily Falling Snow, delivers subhersive and unapologetically raw rhymes. Dio utilizes poetry and lyricism to push cultural resiliency while resisting settler-colonialism and distorting imperialist visions of her native homeland. 
Jayohcee - (Akwesasne, NY)  
Performer, songwriter, producer, engineer, and promoter - Jayohcee is a jack of all trades. He is a First Nations Mohawk Warrior who is also a hip-hop artist from the Akwesasne Mohawk Reserve which is straddled in between what is now the US and Canadian border. Naturally driven and motivated, Jayohcee killed his "For The Love of Music Tour" Summer 2016 and did 'Wake Up the World Tour' early 2017 with his brothers and is ready for another one. Every journey begins with one step....having spent many years perfecting his craft as well as his performance and presentation, this talented individual is well on his way to making a footprint in the history of hip-hop along with shaking the entertainment industry in whole. 
Cody Coyote 
Born and raised in Ottawa, Ontario, Canada, he is of Ojibwe/Irish descent with ancestry from Matachewan First Nation. With his fusion of strong, profound lyricism accompanied by corresponding influential sounds, this Hip-Hop/Electronic recording artist and songwriter grasps his listeners attention in various ways and delivers a mesmerizing performance. Actively engaged in the industry for over 4 years, Cody Coyote's journey includes being up for nominations in the "Best Rap/Hip-Hop CD" and the "Single Of The Year" categories at the 2015 Indigenous Music Awards. 
His career has brought him to platforms such as the Juno showcase held at the Ottawa Music Summit on March 30th, 2017 and he will be performing at the National Arts Centre on January 25th, 2018. Cody Coyote's recent album release entitled "Mamawi" means "All Together" in Anishinaabemowin. "Mamawi" reflects in a manner to initiate positive change through reconciliation between Canada and Indigenous people, togetherness, love and unity. 
"A lot can happen in four years - just ask Ottawa hip-hop artist Cody Purcell" – Digital Drum/APTN 
"Introducing an Indigenous Voice in Canadian Music" - Globe and Mail 
Mercedes Terrance 
A Mohawk Akwesasne woman 
@Mercedes Terrance on Facebook 
@peaches_blanco on Instagram
Catch us all this Sat
Event Link             -> Dio Ganhdih, Jayohcee, Cody Coyote, & Mercedes Terrance Live
Purchase Tickets - > Buy now